What about the "heroes", that are struggling for daily survival on the moon?Edit
(FJS Falconos) The life of the moon soldiers are a homage for the heroes of the every day moon life, for them, no one else reported about. Starting from that idea we developed "Fungus Rock", a side project of the radio show "Grenzerfahrungen", to write down the songs and set them to music. The result should be apart of the Iron Sky universe and made it available to the director Timo Vuorensola and his team.
Iron Sky is a project with a very tight budget. Therefore Timo and his team are dependent to generate additional money for the production from their fan base. Because of that we decided to spend the proceeds from the sale of the EP "Das Leben der Mondsoldaten" to the team of Iron Sky. Unfortunately they had to cover their budget because of a snow storm in Frankfurt/Germany (that's why they lost two days of shooting) and the extreme flood in Queensland/Australia (near the set, the team had to adjust quite a bit).
Just like the team of Iron Sky we hope that this gap can be closed through "Kraut financing" and that no cuts in the CGI post-production are required – that would be otherwise the only solution. "Fungus Rock" and every one who is participating wants to help, that the science fiction comedy Iron Sky become a success – without compromises.
The release date is middle of December 2011.
"Die Lieder der Mondsoldaten" are our contribution on it!
The track / artist listEdit
Die dunkle Seite des Mondes, -153° – 
Music & Mix: Donarski (:Golgatha:)
Die Mondsoldaten 
– Komponist & Produzent: S.Marleni
Helium-3 
– Tarsus
Partikelsturm / Tödliche Bedrohung 
– Feuerfalke –


Der Leu der Lüfte 
– Kreuzweg Ost
Artefakt / Energie
 – Feuerfalke
Der tragische Tod des Gefreiten Timo Adler im Krater KER 9 
– Letum
Schlaf in meinem Armen 
– Music/Orchestration: Alexander Kaschte (Weena Morloch) 
Vocals: Sorakey (:Golgatha:), Mix: Donarski
Schwarze Sonne 
– Music & Mix: Donarski (:Golgatha:)
Helium-3 – Rekonstruktion 
– Pacific 231
All Lyrics by Feuerfalke. Spoken words by Christian Schult.
The cover artworkEdit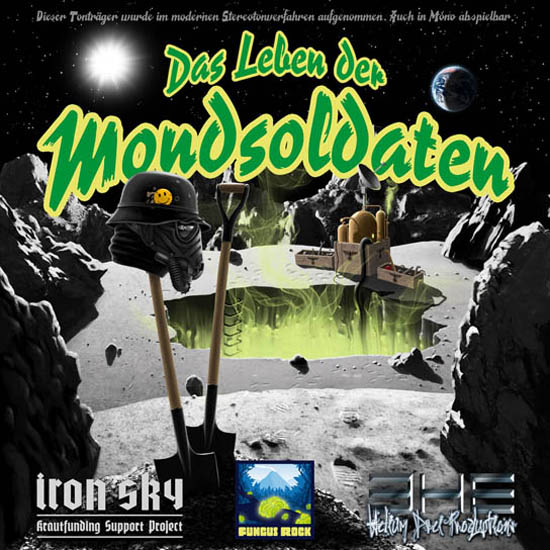 More Information